When Mark Warner invited me to take part in their Active Family Challenge I jumped at the chance.
One of my New Year Resolutions was to get outdoors as often as I can with the children. I think I am doing well with this. Each week I have a number of outdoor fun experiences to choose from to write up for the Country Kids Linky. I wish I had time to write up every lovely memory.
An unwritten resolution. but a constant ongoing one in my life is to get and keep fit. I have started training for my next run and the kids keep fit by going swimming, to gymnastics and dance, but we don't do much actual keeping fit together apart from walking.
As family activity holiday specialists, Mark Warner are keen to see families staying active together at home as well as on holiday.
"Last summer the world watched as thousands of Olympic athletes inspired those watching to get active, and families should continue to embrace an active lifestyle and have fun whilst doing so."
I completely agree, I want to set my children a good example by leading an active lifestyle. I also want it to be a natural part of our everyday life and always fun and enjoyable.
So, on with on this weeks challenge:
Go for a spin – active family on wheels (cycling, skating etc.)
I chose to go cycling with the family- not as easy an activity as it would seem. I would love to be the type of family that each have their own bike, storage for bikes, a bike rack on the car and kids who can ride a bike with ease- but we are not.
Dad, Dave, is a good, experienced rider

Mum (Me!) finds it difficult to ride with a baby seat, or pulling a trailer (they are so heavy and seem to swing out on corners!)
Danny, 10, has a heart condition and balance and co-ordination problems and feels too old to use stabilisers but can not manage to ride a standard bicycle

Rebecca, 6, and Caitlyn, 4, are fit and able to ride a bicycle

Isabelle, 1, toddles around on her ride-ons
However, despite our difficulties, what we lack in cycling skill, we make up for in enthusiasm, and luckily for us, whatever age or disability, there is a bicycle to suit everyone.
Danny loves going to our local Wildlife Park, Manor House, as they have special tricycles there. He is able to jump on and ride a bike just like all the other children.
I wish we could buy him a cycle like this and have the room to store it, but we can't at the moment.
Luckily for us however, our County Council run a Bike Mobility Scheme to enable people of all abilities to enjoy the benefits and pleasure of cycling. So, off we went on Sunday, as a family to all have a go on the bikes. They have an indoor and outdoor track, so you can take part whatever the weather. On this occasion I'm glad it was a nice day so we could cycle outdoors.
Here is Caitlyn. All helmets are provided.

Caitlyn and Danny.



Here's Rebecca catching up with them.


We each had a turn on a number of different bicycles.

It was fun changing the type of bikes we were riding.



If our legs tired, we could pop onto a cycle that you pedal using your arms, and vice versa. Here is one being modelled by our friends, Rose and Lilirose.


It is also a great place to learn to ride a normal bike before you take children out on the roads.
Danny liked the low Go-Kart…
… and the standard Go-Kart.
Here Rebecca is trying an arm-powered bike.



I loved getting the chance to share a cycle with my older children. Danny and I gave our arms a good workout on this one.


Then we both took to the pedals whilst the girls sat back and enjoyed the mountain view.

At one point I complained to Danny that it was very hard work to pedal this quad bike. He giggled and revealed that as I was pedalling, he was pulling the bike's handbrake up! Well, he gave me a good workout!




They have wheelchair bikes too, for people who cannot easily move out of their wheelchair.



We spent a good few hours at Bike Mobility and it has inspired the girls to ask to go out on their bikes more. They have cycled home from school and cycled to and round our local sports field.


Dolly's came too, of course. Izzy went on one of her ride-ons. She used to ride backwards, but when she's out with the girls she is determined to go forwards and try and keep up with them.


Caitlyn, Dolly and Tiger.


Rebecca and dolly.


I love this photo of Isabelle, with the wind blowing her hair.



She also went on her little trike while we were at Scolton Manor on Monday.
Going for a bike ride, feeling the wind in your hair, really gets the adrenaline going and gives you that wide a wake feeling!
I hope you feel inspired and ready to Go For a Spin this week!
Mark Warner would like you to share your inspiring stories with them, either on Twitter using the hashtag #mwactive and Twitter Handle: @MWholidays or on Facebook.
For more inspiring Active Family Posts please read these posts (I will add more as I find them!).
The Bottom of the Ironing Basket
Mari's World


The Three Musketeers (Mum of three boys)


Kailexness
There are two linkys that you can join up with too if you wish!
Now, what are you waiting for? Go for a spin!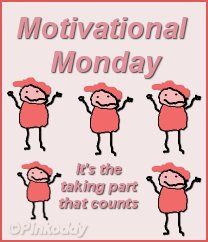 As a thank you for taking part in the Mark Warner Active Family Challenge I will be awarded one pair of custom-fitted Profeet running shoes.