Ooh, it's Sunday night! Time for me to put my feet up and cosy up on the settee with a cup of tea and the latest episode of Call the Midwife.
Despite (or maybe because of!) having four children I don't normally enjoy shows about birth or midwives in general. I haven't ever watched "One Born Every Minute" and I don't intend to. However, I love a good period drama and my favourite period for style and fashion has to be the 1950's, so this is a great show for me to watch.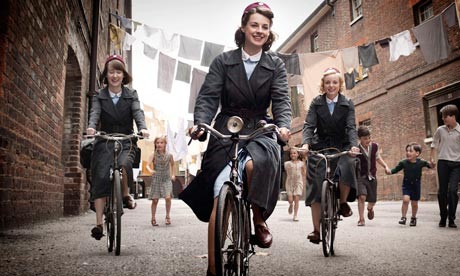 Even dressed for work, the midwives are immaculate and stylish. I love their bikes!
While I don't think I'll ever afford my own Pashley Princess a la Lily Cole…
… I might find a Halford's Classic Bike more affordable. Of course, the midwives needed bike satchels for all their midwifery needs, but I would add a basket to mine for my whimsical rides in the country. I love the vintage style bike lights!
The Reiss Eden Trench coat was very similar to their smart, working trench coats. This sold out very quickly, after Pippa Middleton was spotted wearing it all those years back in 2011.
However, all good clothes shops have classic coats like this in stock every year, for every price range.
Asda
Marks & Spencers
When the midwives are off duty they look so glamorous in their tea dresses and cardigans.
I also swoon over all the 1950's accessories throughout the show. I would love a 1950's Rotary Dial Telephone. Do you remember when this was how we used to dial the numbers? Now, we don't even have to touch a button! We have touch screen or voice activated calls. It's just not the same, is it?
This one is only £27.95 to buy.
If you fancy an old school rotary dialer on your mobile phone, "There's even an App for that!" Well, there would be, wouldn't there?
It may be the teacher in me, but I love a traditional school blackboard.
We have this Ikea blackboard and key holder in our kitchen. Ours is in grey, but I do like this stained version.
Right, I'm off to bath the kiddies- we're all covered in sand (you'll see why in this weeks, "Country Kids")- and read them bedtime stories.
Then, at some point I will get to sit down and watch my favourite programme (I will Sky Plus it, 8pm is far too ambitious for me!).
Do you like "Call the Midwife"? When was your favourite fashion era?
Ooh, just remembered I love the theme tune too! Do you?