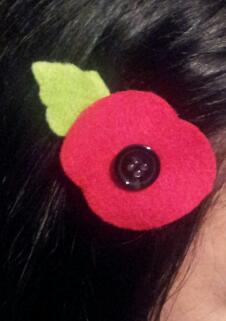 Hello All,

I wanted to make the girls Remembrance Poppy Hair Clips to wear with their Poppies this week.
I was planning to sew them as I've previously made their flower hair clips, but time is going too quickly so I decided to whip them up more quickly with the glue gun.
I traced around the red poppy shape twice with my tailor's chalk onto red felt.

I did the same with the poppy leaf onto the green felt. This was the best shade of green that I had in my felt stores. It is more suitable for "Spring Flowers", but it will do!

I chose a black button for the poppy centre.

I then hot glued the button to the centre of the red poppy. When that dried I glued the red poppy to the leaf, and then finally the leaf to the hair clip. I used a black slide on this occasion.

When I make clips for myself, I stick the designs onto a Kirby grip, I find these work better with my thick hair.

I have a "Spotty" Children in Need Party with Isabelle tomorrow, so I did think that I could make red spotty poppy hair clips for me.

However, they didn't work very well, the spots on this felt pattern are too big.
I may wear my ladybird ones instead!

Danny will be marching with Cub Scouts in the Remembrance Parade on Sunday and then taking part in the Service.

See you tomorrow!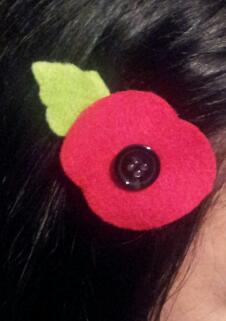 love

Claire
xxx